Serving Greater Newark, NJ
Home Theater Installation
Home Theater Installers in Bloomfield, NJ serving all of Essex County
Whether you're a major sports fan, a movie aficionado, or the type of person who simply likes to entertain at home, a new home theater can help you and your guests take your viewing experience to the next level. At Essex Security Integrations, our home theater installation services are designed to provide you with a unique opportunity: to design an entertainment setup that suits your specific needs and goals.
At Your Service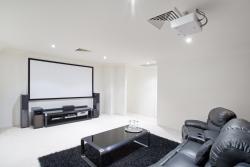 At Essex Security Integrations, we're passionate about technology and home entertainment. We want to help you make the most of your space by installing a home theater that gives you the best picture and sound available. No matter the layout of your home or size of your budget, we'll be happy to work with you to create the home theater you've been dreaming about.
To learn more about our home theater installation options or to schedule an estimate, call Essex Security Integrations today.
High quality, great integrity, HIRE!!!!
Mr. Bassett is a man of high integrity. He is meticulous in his workmanship. Prices are very reasonable and he does not bind you for years in a contract for monitoring that will in the end cost more than the security system is worth. I was more than pleased with the home security system he put in my home and I have had 3 of them; and for the first time I feel like I am safe with both a system and a company!!! He took the time to make sure places in my home were secure when other companies did not. He took his time in explaining everything about the system as well as how it worked. He is very knowledgeable in his field and I highly recommend him!!!!
Message Sent. Thank you for contacting us. We will be in touch with you shortly.
Send A New Message
Contact
Essex Security Integrations
Hours
9:00am - 5:00pm, Every Day